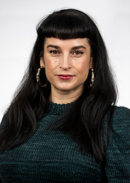 Libby Cowgill's teaching style is described as something akin to watching the Discovery Channel in person, according to one of her students. Between building muscle systems and reenacting different processes, including stone tool making, Cowgill's students learn by doing.
"She understands the necessity of experience, not just information, and the students that leave her classes are better for it," said Justin Schmolling, a University of Missouri alumnus.
Since joining MU in 2011 as an assistant professor, Cowgill has created her classroom to be an innovative learning experience — an experience students, time and time again, say they enjoy.
"Being able to present science to a general audience and make them love you is a rare gift," said Miriam Golomb, associate professor emeritus of the Division of Biological Sciences.
From her excitement for her courses to being a life coach for many of her students, Cowgill believes teaching does not stop in the classroom. Her enthusiasm and passion for teaching is also woven into her service and outreach to the community.
Cowgill was one of 15 representatives of the UM System who served as a 2019 Presidential Engagement Fellow, which allowed her to give public talks on her research in communities across the state. Additionally, Cowgill is active in an annual outreach program called "Dinosaurs and Cavemen Science Expo" that allows young children to experience creative exhibits about evolution.
Beyond the classroom and the community, her work also has hit television. Cowgill was recently featured in a two-part PBS/BBC documentary titled "Neandertals: Meet Your Ancestors," which aired worldwide. Additionally, her research is a central focus of a 12-part Netflix documentary called "Babies," which was released in February.
Previously, Cowgill has received the Provost's Outstanding Junior Faculty Teaching Award as well as an undergraduate advising award by the American Association of Physical Anthropology in recognition for her commitment to both undergraduate and graduate education.
"Dr. Cowgill's exceptional performance as an outstanding teacher is widely recognized among our students, across the campus and within her discipline," said Lisa Sattenspiel, professor and chair of the Department of Anthropology.
She has published several journal articles and abstracts detailing her research in biological anthropology, Pleistocene human evolution, human growth and development, human skeletal variation and functional morphology. Cowgill's fieldwork experience entailed studying fossils and skeletal collections in various museums across the globe in France, Germany, Spain, Italy, Israel, Belgium, Portugal, South Africa and the U.S.
Today, Cowgill teaches many of the core biological anthropology courses, including Functional Morphology of the Human Skeleton, Human Origins and Introduction to Biological Anthropology. She also serves as the director of graduate studies for the department.
"People shouldn't be allowed to graduate without her courses on their transcript," one student said on a course evaluation.