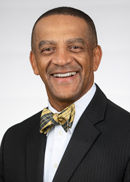 Daryl Smith has extensive experience in the business management world. Having worked at some of the largest companies in the country, such as ESPN and ABC Sports, Motorola and Cox Communications, Smith brings extensive business knowledge to the classroom. Additionally, he is constantly encouraging his students to become the best version of themselves. His reputation as an educator precedes his time at the University of Missouri.
In addition to teaching upper-level Management courses, Smith served as the director of Vasey Academy for 6 years. Under his leadership, the scholars of Vasey graduated at a rate of nearly 90%. As an MU professor, he has been recognized for his achievements with several awards, including the MU NAACP Booker T. Washington Outstanding Faculty Advisor Award and the Outstanding Faculty Service Award from the Trulaske College of Business. Last year, Smith was selected by the Kappa Alpha Theta Sorority Inc. as one of the top 10 faculty in the nation.
Arozo Shahabzada, former undergraduate student at MU and board member for the Vasey Academy, said Smith goes above and beyond his responsibilities as a professor to engage his students.
"I will never forget how Professor Smith structured classes by getting everyone engaged and using real-world, relevant examples," Shahabzada said. "As a business professional for the past five years, I've experienced firsthand how valuable his methods were."
Donald Meyer, retired assistant teaching professor at the Trulaske College of Business and one of the 2019 winners of the Kemper Fellowship, believes Smith truly cares about his students.
"I have no doubt that Daryl could earn a far greater salary in the private sector, yet he uses his extensive experience, skills and knowledge to better prepare and mentor University of Missouri students," Meyer said.
Smith is dedicated to ensuring his students succeed, and his efforts to make students excited about class go a long way in creating an inviting educational atmosphere. He brings energy to each lecture and feels a responsibility to present information in a way that promotes engagement.
Smith currently serves as the faculty advisor for the Society for Human Resource Management. He also was a key contributor to the creation of the SEC Business School Diversity and Inclusion Conference in 2015, which is a proactive collaboration among the SEC schools.
Christy Scheibeler, a student of Smith's during the 2018 academic year, praised his commitment to his students in her nomination letter, where she discussed her own Honors College ceremony.
"I was to request the presence of a mentor to accompany me at the Honors Ceremony. It was to be someone who had a great impact on my life during my college career," Scheibeler said. "Professor Smith was an easy choice. Not only did he come to support another student and myself, he brought games, snacks and noisemakers to make a long, but important ceremony enjoyable."
Ask Scheibeler, and she'll say Smith was the best mentor at the entire ceremony.
Daryl Smith graduated from MU with a bachelor's degree in business administration. He later received a master's in business administration from the Washington University of St. Louis.