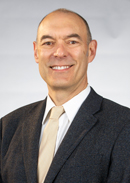 As a former NASA aerospace engineer, when Craig Kluever looks out at a lecture hall of college students, he sees them not as students, but as young professionals in mechanical and aerospace engineering. With this perception in mind, Kluever has developed a collaborative, innovative and practical teaching method that equips his students to easily make the transition from college student to working professional by emboldening and empowering them. Kluever's engaging learning environment has left a lasting impact on the colleagues and students he tirelessly supports.
While Kluever's students need to learn complex mathematical concepts, he believes they aren't truly learning unless they have the opportunity to apply those concepts to real-world problems. So, he uses practical problem-solving to guide his classes, building on foundational math equations to solve real-world scenarios. One such mini-design problem encouraged student teams to design shock absorbers to safely stop a moving train.
"I'll never forget the first class I took with Dr. Kluever," said Allison Weyhrich, a former student who is now employed at Boeing. "For the first time, I was forced to think critically about challenging assignments and apply my classroom-level knowledge to real-world problems."
Kluever's influence has extended beyond his students and classes. One of the ideas Kluever has implemented as the director of undergraduate studies in the Department of Mechanical and Aerospace Engineering is exit interviews with graduating seniors to learn how to improve the department's courses and modernize the curriculum. By fostering these open environments, Kluever further demonstrates how he is open to being a constant learner by creating a dynamic teaching experience that invites change and collaboration.
Victoria La Rose, an MU graduate in mechanical and aerospace engineering, appreciated Kluever's constant advocacy and commitment to making students feel at home.
"My experience as a young mother in college has faced me with a unique set of challenges," La Rose said. "I always felt included and valued in Dr. Kluever's classes. He empowered me many times and has made a big impact on my academic career."
Geoffrey Glidden, a senior propulsion engineer for SpaceX, gathered valuable knowledge and practice from Kluever's classes. Glidden has worked on the design and production of liquid propellant engines for the Falcon 9 Merlin. Glidden said the hands-on teaching methods Kluever used gave him the motivation to seek out professional internships in the first place.
"I consider myself very fortunate to have had Dr. Kluever as my advisor and professor," Glidden said. "His support was highly influential in helping me secure my current career in spaceflight."
Kluever's reputation is widely known. He received the Mechanical and Aerospace Engineering Department Teaching Excellence Award 29 times and has authored two textbooks widely used outside of the university. He has contributed to and reviewed dozens of journals, and he has given guest lectures in China.