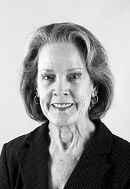 As one of the few professors who teaches both business minors and master's students, Billie Cunningham recognizes that teaching accounting enhances students' decision-making skills. Her teaching philosophy is what colleagues and students believe sets Cunningham apart as a teacher.
Trulaske College of Business Dean Ajay Vinze says that Cunningham is one of the first teachers students encounter, and her course in principles of accounting lays the foundation on which students build their careers. Many of her students will not become accounting majors but instead will use accounting information to make business decisions as managers and investors. Cunningham teaches the roles of accounting and ethics in business decisions while teaching her students the skills of inquiry, creativity and critical thinking.
"Professor Cunningham has crafted her ability to introduce complex accounting topics in ways that encourage, include and engage her students," says Madison Gilbert, a former student. "Her curriculum is seamless and well thought out, creating an atmosphere in the classroom that fosters an interest in accounting that lasts the length of a career."
For more than 20 years, Cunningham has taught classes of approximately 400 students. Her colleague Loren Nikolai praises her passion for teaching, comparing her to the Energizer bunny.
"Billie continues to teach with as much enthusiasm and vigor as she did when she started 22 years ago," Nikolai says. "I can personally attest to Billie's creativity, enthusiasm, effectiveness and efficiency with which she fulfills her responsibilities."
Cunningham's success as a teacher is due in part to how she integrates interactive learning into her curriculum. Cunningham was one of the first teachers to use clickers, an audience response system, to motivate student learning, maintain their interest and identify areas where they are weak in their understanding of a topic. She also maintains a high level of energy in the classroom by using educational videos, in-class demonstrations of business practices and real-world examples.
Outside the classroom, Cunningham serves as a mentor to organizations and students. She was the faculty adviser for the Association of Accounting Students and faculty adviser for the MU chapter of Beta Alpha Psi, the national honor society of accounting majors. In these roles, Cunningham brought many high-level speakers to campus. She also served as chair of the Trulaske College of Business Undergraduate Programs Committee and currently leads the School of Accountancy's 150-Hour Program Committee.
On a personal level, students commend Cunningham for her warm personality.
"She always made a point to ask me how I was doing and what I was up to," says Emma Worgul, a former student. "As a freshman at a university as large as Mizzou, having someone I knew I could go to if I had a problem or just needed to talk was instrumental to my development not only as a student but as a person."
Cunningham earned a bachelor of business administration, a master of business administration and a doctorate from North Texas State University. She is the recipient of numerous awards, most notably the Lifetime Achievement Award from the American Accounting Association in 2013. She was inducted into the American Accounting Association's Teaching, Learning and Curriculum Hall of Honor in 2011.