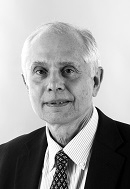 Michael Podgursky's teaching philosophy is, admittedly, "trial and error." A noted professor with years of teaching under his belt, he incrementally tries out new methods and strategies — low and high tech that keep his lectures and presentations fresh and engaging. All the while, he and his teaching assistants solicit reviews from students and colleagues to improve his teaching skills. He monitors trends and best practices with economics faculty at peer institutions, and he incorporates those practices where appropriate.
Podgursky also teaches economics in the Honors College and upper-level field classes in which writing is an integral part of his courses. Shawn Ni, professor and chair of the Department of Economics, praises Podgursky's teaching contributions as well as his willingness to sacrifice personal and professional benefits to remain in the classroom.
"As the department chair from 1995 through 2005, Dr. Podgursky struggled to staff the large sections of introductory economics in a way that seriously engaged the students," Ni says. "One of his solutions was to personally teach a large section of principles of microeconomics while also serving as department chair. Mike would storm up and down the aisles of Middlebush Auditorium, posing questions and quips to the students and achieving the difficult objective of engaging in active discussions with students in a large lecture setting. At one point, a group of students fondly thanked him with a poster complete with a caricature and a compilation of one-liners taken from his lectures."
Nicholas Pretnar, a doctoral candidate in economics at Carnegie Mellon University in Pittsburgh, Pennsylvania, served as a teaching assistant with Podgursky as they further refined the curriculum for the principles of microeconomics course at Mizzou.
"I spent the summers of 2015 and 2016 helping Dr. Podgursky plan a new curriculum for microeconomics with more than 450 students per section," Pretnar says. "Dr. Podgursky's willingness to listen and collaborate with students about how to improve this course demonstrates that even as a tenured professor with many years of experience, he is humbly open to adapting his pedagogical approach to accommodate students' ever-changing needs. His teaching methods are inspiring students to think critically about the real-world implications of economic principles."
Helen Bass, a former student of Podgursky, is completing a master's degree in law and economics at the University of Reading in the United Kingdom. The 2016 Mark Twain Fellow says Podgursky taught one of her first and last economics classes at Mizzou and continues to play an influential role in her academic career.
"When I was a student in his introductory microeconomics class, Dr. Podgursky seemed to me like the archetypal university professor — constantly trailing chalk dust, excited about his subject and passionate about passing his excitement down to students," Bass says. "His quirky personality and attempts to use pop culture references — we were frequently inundated with Justin Bieber jokes — made students feel comfortable enough to pepper the conversation with their own thoughts and experiences. Professor Podgursky creates a dynamic learning environment in which both professor and students bring knowledge to the table and learn together."
"Although economics was an entirely new subject to me, I looked forward to attending lectures each week because Dr. Podgursky brought the material to life," says Amy Esker, who graduated with bachelor of science and master of arts degrees in economics from Mizzou. "When Dr. Podgursky enters the classroom, his enthusiasm is obvious and contagious. I would not be where I am today without him."
According to Podgursky's students, he incorporates current, relevant material from many sources, including The New York Times, The Wall Street Journal and The Economist to help bring seemingly abstract concepts into perspective. He also is adamant about maintaining an open-door policy with all of his students, current and former.
Podgursky earned a bachelor of arts degree in economics from the University of Missouri, and master of arts and doctoral degrees from the University of Wisconsin, Madison. He serves in several leadership roles, including the advisory board for the Program on Education Policy and Governance at Harvard University, and the editorial boards for the journals Education Next, Education Finance and Policy and Elementary School Journal.