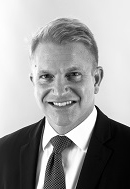 Thomas Lambert's teaching philosophy includes the goals of attempting to inform, equip and inspire his students while serving as a model of professionalism. It's a given that ensures his students know the law well. He equips them by teaching them to master the process of distilling rules from judicial opinions and other sources of law. He inspires them by teaching them to be intrigued by the intricacies of the legal system.
Kenneth Dean, interim dean of the University of Missouri School of Law, says Lambert's dedication to his students' "intellectual development, careers and well-being — inside and outside of the classroom — is truly exceptional. Professor Lambert has passion, not merely for teaching legal rules and judicial opinions but for inspiring fascination with law and its practice," Dean says. "He rejects the separation of scholarship and teaching; he brings students with him on intellectual journeys into the intriguing questions of law and policy. Professor Lambert's teaching is all the more effective because of his humor and obvious joy in what he does."
Bradley Craigmyle, a third-year law student, calls Lambert's teaching ability second to none.
"Professor Lambert is well-known for giving the most difficult exams in the law school," Craigmyle says. "It speaks volumes that law students — who are competitive and ranked from first to last in their class — literally line up to take his courses, while knowing that his finals will be the most difficult of the semester."
According to Lambert's students, it is his commitment to their careers and well-being that makes Lambert stand apart as a professor at the MU School of Law. His students say he has had an immeasurable impact on their lives.
"Professor Lambert's greatest gift is his ability to explain difficult concepts clearly and concisely, walking his students through myriad legal principles in a straightforward and organized way," says Brian Stair, a former student of Lambert and attorney at Husch Blackwell in St. Louis. "His ability to teach reaches far beyond the confines of his classroom. He often made himself available to students to discuss career opportunities, future classes and other professors with whom to work."
"Professor Lambert served as a friend and a de facto career adviser to many Mizzou Law students. He opened up his home to students for social events, from game nights to barbecues," says Lucinda Luetkemeyer, an attorney with Grave Garrett in Kansas City. "These gatherings were so popular that one of the most sought-after items at the annual Women's Law Association charity auction was a group gathering at Professor Lambert's house."
Lambert teaches courses on contract law, anti-trust law and business organization. Lambert also is an accomplished scholar; he has authored or co-authored more than 20 journal articles in various publications, including the Antitrust Bulletin, the Boston College Law Review, the Minnesota Law Review, the Texas Law Review and the Yale Journal on Regulation. He blogs regularly at Truth on the Market, a site offering academic commentary on antitrust, business and economic legal issues.
He has received multiple awards for teaching while at MU, including the Blackwell Sanders Peper Martin Distinguished Faculty Achievement Award and the Gold Chalk Award for Excellence in Teaching.
Lambert earned a bachelor of science in philosophy from Wheaton College. After graduating with honors from the University of Chicago Law School, he clerked on the United States Court of Appeals for the Fifth Circuit. He practiced antitrust law at a Chicago firm before entering the academy as a fellow at both the Northwestern School of Law and Washington University in St. Louis.