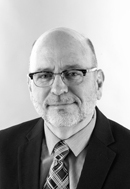 Stacey Woelfel's teaching philosophy revolves around giving students individual attention and focusing on their goals. Woelfel stands out as a leader in creating a learning environment that emphasizes mutual respect while helping students design their education plans and succeed in meeting their educational needs and goals. Woelfel says a large part of his approach is motivating each student to travel a path of self-discovery. He believes students learn best when they examine their own work for the breakthroughs that allow them to advance as journalists and filmmakers.
Woelfel began his career at MU in 1986 as an instructor at KOMU-TV. In 1990, he was named news director, a job he held until 2014 when he became founding director of the Jonathan B. Murray Center for Documentary Journalism.
MU School of Journalism Dean David Kurpius says that Woelfel is best known as an elite trainer of broadcast journalists. In his 28 years of working with students at KOMU-TV, Woelfel developed a reputation in the industry as a teacher whose students excel at the highest levels, earning multiple national Edward R. Murrow and William Randolph Hearst awards.
"His quiet style is attentive and engaging," Kurpius says. "The best indicator of Stacey's teaching ability is to hear from alumni who came through his classes and worked for him at KOMU. They consistently tell stories of career-changing instruction that prepared them to be leaders and innovators in the industry. In his time as director of the Jonathan B. Murray Center for Documentary Journalism, he has recruited and nurtured strong student classes and built a culture that will be key to the success of the center."
Meredith Artley, a former student who is now editor-in-chief for CNN Digital Worldwide, describes Woelfel as an innovative leader with journalistic vision.
"Stacey Woelfel leaves a permanent mark on the students who pass through the best journalism program in the world," Artley says. "I have had some remarkable role models in my life. Stacey stands apart as someone who represents so much of what I and fellow students aspired to be. Smart. Experimental. Witty. He embodies the Missouri Method by being the ultimate teacher and a calm, accessible leader who knows his craft."
In his 30 years as an instructor and faculty member at MU, Woelfel has been instrumental in developing and teaching courses in broadcast and documentary journalism. The courses include microdocumentary photojournalism and videography, documentary business, broadcast news, advanced broadcast reporting, and convergence editing and producing.
Kellan Marvin, a current student and a member of the inaugural graduating class of the Murray Center, says Woelfel works tirelessly to create curriculum and provide students with a solid foundation that prepares them for careers in the unpredictable field of journalism.
"Stacey takes a pragmatic approach to everything: creating course content, leading discussion on films and mentoring students on any issues they may have," Marvin says. "He is knowledgeable about every aspect of documentary filmmaking; however, despite his seemingly never-ending expertise, Stacey never intimidates students or makes them feel inadequate. He cares about each student personally and challenges them to examine perspectives other than our own."
Woelfel has earned multiple awards and honors for his work as a teacher and journalist, including the 2007-08 Missouri School of Journalism O.O. McIntyre Professorship Award for Teaching Excellence, the 2008 Missouri Interscholastic Press Association Knight Award, the 2006 MU Excellence in Education Award, the 1994 Edward R. Murrow Award for Small Market Excellence, and numerous regional Emmy awards.
Woelfel holds three degrees from the University of Missouri, including a bachelor's of journalism degree, and master's and doctoral degrees in political science.