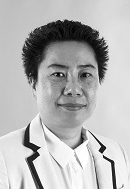 Jung Ha-Brookshire believes that a good teacher can inspire hope, ignite the imagination and instill a love of learning. She believes this because she has lived it.
Ha-Brookshire grew up in the treacherous social, economic and political environment of South Korea after the Korean War. She says it was her teachers who gave her "the hope I could not afford back then." They pushed her to dream and imagine a better future, and they nurtured her love of life-long learning.
Today, the hallmark of Ha-Brookshire's teaching and mentorship is inspiring students to go beyond what they thought possible. Whether challenging students to view the world with a global lens or engaging them in research, she offers expertise coupled with a personable, encouraging approach.
"More than delivery of subject matter, Jung has a way of letting students know she cares about them and is there for them," says Pam Norum, professor and chair of textile and apparel management, or TAM. "They realize that she brings a wealth of knowledge to the classroom, but they also love that she challenges them to go far beyond what they think is their potential."
Ha-Brookshire encourages her students to consider the global impact of their work, and she has created experiential learning tours to places such as New York and El Salvador, where students develop a first-hand understanding of supply chains in the textile and apparel industry.
Jaime Mestres, a senior academic adviser in career services, has worked with Ha-Brookshire for nearly a decade. Mestres recalled that as a young faculty member, Ha-Brookshire was given the task of teaching the apparel marketing and merchandising capstone course.
"She enthusiastically took this class and made it into one of the most rigorous capstone courses on campus," Mestres says. "Students have repeatedly stated that what they did in this class emulates what they do now in their industry positions."
In addition, Ha-Brookshire is able to leverage her extensive industry connections to benefit her students.
"I have come to realize that her own connections and knowledge from her experience of working in the retail industry in New York City have elevated the Missouri TAM program to what it is today," says Abbie Luzecky, who earned a bachelor's degree from the program in 2013. "From her classroom lectures to the annual New York City networking trip, Dr. Ha-Brookshire's passion for bringing her students useful and applicable experiences is second to none."
Gargi Bhaduri met Ha-Brookshire in 2009, when Bhaduri began graduate school in textile and apparel management. Through Ha-Brookshire's encouragement and mentoring, Bhaduri persisted through the doctoral program and is now an assistant professor at Kent State University.
"Over the last five years, she has completely changed my life," Bhaduri says, noting that she originally planned to complete only a master's degree when she started at MU. "Her constant encouragement inspired me to walk further and pursue my doctoral degree."
Ha-Brookshire began her career in the textile apparel industry on the foundation of a bachelor's degree in clothing and textiles from Seoul National University. She lived in New York City and worked for apparel sourcing companies for eight years before returning to graduate school. She holds a master's degree in business administration from Baruch College and a doctorate in consumer, apparel and retail studies from the University of North Carolina at Greensboro. She has written books based on her academic and industry expertise and continues to publish research.