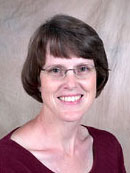 Charlotte Phillips joined the University of Missouri-Columbia faculty in 1994. An associate professor of biochemistry, she teaches courses in the medical school and mentors graduate students studying molecular biology. Colleagues say she teaches by example and that her lab is teeming with enthusiastic and hard-working undergraduate researchers. With a national shortage of physician-scientists, Phillips' efforts are helping MU meet that need.
When students evaluate Phillips' work, one main theme is consistent: "Inspired excellence." One student said: "Dr. Phillips is a great teacher, effectively communicating the concepts of genotype to phenotype and how this correlates to clinicians and eukaryotic cells." Another said simply: "Kind of hard not to enjoy a maternal figure who projects a non-stop caring attitude and passion for what she is doing."
Colleagues agree, saying her insights are "refreshing." One professor wrote: "She presents the current scientific literature to the class, using material at a very sophisticated level, but one the students comprehend and appreciate."
Phillips received her undergraduate degree from the University of Central Florida and her doctorate from North Carolina State University. She has been recognized at MU for teaching excellence with the Jane Hickman Teacher of the Year award and the Excellence in Education award from the Medical Student Affairs Council.