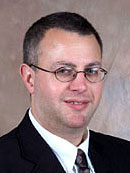 Since joining MU as a graduate instructor in 1990, Lawrence Ries has taught 14 different statistics courses. He has lectured to an average of 300 students per semester in one course and this year is teaching two sections of the same course each semester with about 600 students per semester.
As a teacher of many "non-math" students, Ries has earned respect and admiration for his classroom skills. One journalism student said: "I am not a math person. Before long, I noticed I was looking forward to lecture classes. To my sheer amazement, I began to understand random samples and margins of error." Another said: "I went into his class with a firmly closed mind, prepared to hate it. But after his first lecture, he'd won me over, and by the end of the semester, I was bringing friends with me to class, friends who weren't even enrolled in the class."
Ries' colleagues agree. One professor said: "Dr. Ries is an extremely talented educator. He has a compelling yet unassuming presence in front of the classroom, and his effectiveness as a lecturer is unparalleled."
Ries received his undergraduate, master's and doctorate degrees from MU. Honored in Who's Who in American Colleges and Universities, he also has received five teaching awards from various student organizations on the MU campus.