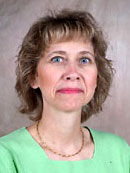 Mary Ann Gowdy came to the University of Missouri-Columbia in 1991 as the coordinator of its greenhouse facilities. She is now the primary instructor for three undergraduate and two graduate level courses in the plant sciences unit. She has been described as the "heart and soul" of the undergraduate degree program in plant sciences.
Gowdy's concern for her students has been called her greatest asset. One colleague notes: "There is a marked difference between a teacher who simply makes knowledge available for learning and one who enables students to learn. Dr. Gowdy exemplifies the latter." While her classes are labeled "rigorous and demanding," students praise her for "engaging students rather than teaching down to them." One said: "Much of the time we discuss relevant topics until the material is clear to us. She focuses on the information and experience that helps us excel in the real world."
Gowdy earned her undergraduate degree from the University of Kentucky and her master's and doctorate from Oklahoma State University. She has received the Golden Apple teaching award and Outstanding Teacher of the Year award from the College of Agriculture, Foods and Natural Resources. She also has been named a 2000 Global Scholar–Costa Rica for MU.