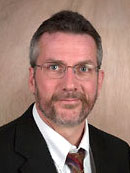 Neil Minturn joined the faculty of the University of Missouri-Columbia in the fall of 1997. He consistently carries a heavy teaching load and has taught a total of nine different courses at MU. Whether it is aural training and sight singing, music theory, or 20th century composition techniques, Minturn is praised for presenting lessons that are highly organized and engaging. Two-thirds of his students rate him as one of their best teachers.
Neil Minturn's teaching philosophy states "students must learn to think and to teach themselves. Students learn the most by applying knowledge." His teaching style has been described as "nothing short of brilliant" by one professor and was dubbed "a gifted communicator" by a student. Another student said: "Dr. Minturn has been the single greatest influence on my undergraduate career. The lessons I have learned from him about writing, scholarship, teaching and musicianship are invaluable."
Minturn received his undergraduate degree from Reed College in Portland, Ore., and his master's and doctorate degrees from Yale. He has written books on topics ranging from composer Sergei Prokofiev to the music of the rock group The Band. In 2002, he recorded original progressive jazz/rock with a trio, writing or arranging about half of the material. The CD was completed in January 2004 and is now being distributed.